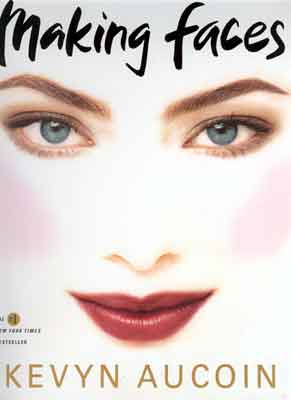 I've assigned myself a little project that I'm looking forward to sharing...
Making Faces
, by the late great beauty guru Kevyn Aucoin (see photo below), is one of my favorite books that contains a multitude of beauty (mainly makeup) tips and some really captivating photos of the author's work on both celebrities and ordinary people. What I especially admire about Kevyn was his outlook on beauty. While he believed the all-American girl-next-door look can definitely be beautiful, he was more intrigued by women with a more eccentric appeal, such as Bette Midler, Cher, and Barbra Streisand. He saw these women as beauty underdogs. And let's face it: it's hard not to root for the underdog. They're just more interesting.
My project will entail going through each one of Kevyn's "looks" on myself and then posting each one as The Makeup Look of the Day. I think it's going to be interesting and most of all, fun!
Aucoin's work on the very beautiful Christy Turlington
FYI-- If you are a Making Faces/Kevyn Aucoin fan, you might also want to check out the work of Way Bandy (another makeup legend who happened to be Kevyn Aucoin's inspiration) and his book called
Designing Your Face.
This would be the vintage version of
Making Faces
. I have not actually seen the book myself yet, but it would be interesting to see how ideas behind makeup and beauty have changed since it was published back in the seventies. Sometimes the oldest tricks in book (literally in this case) are the best!